BASE OF BUSINESS MANAGEMENT SYSTEM ITNMS
Business strategy and vision of the Institute is based on integrated quality management system (IMS) as a powerful tool for business improvement and efficient management processes (scheme 1).
Business distinction based on the Quality Management is a way for Institute to gain competitive advantage in the market and change its processes for mutual complacency and benefit (customers and Institute).
Quality management system integrates: quality (SRPS ISO 9001), testing (SRPS ISO 17025) compliance control (Manual 65) management system, environmental protection (SRPS ISO 14000) and standards of safety and Occupational health and safety (OHSAS 18001)

- ESTABLISHED


- INITIATED ACTIVITIES


- PROVIDED WITH DEVELOPMENT STRATEGY
DEGREE OF IMPLEMENTATION COMPONENTS IMS in the Institute
Quality Management System
The Institute has a certified quality management system according to the model SRPS ISO 9001/2000, by ISS No. QS1-0102 based on the process approach as a basic principle of IMS.
One advantage of procedural approach is the possibility of continuous control, which is performed through defined relationships between processes. The processes are divided into: main and secondary or logistics processes. Main or primary process includes primary activities of the Institute. Management process is presented on the scheme number 2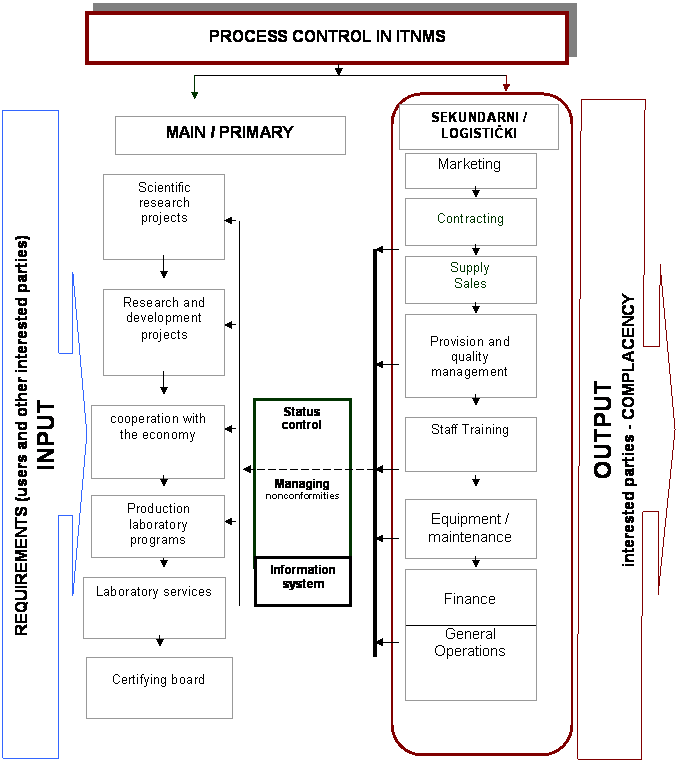 Scheme 2 - Process control
Central Testing Laboratory
Regulation on organization of the Institute was adopted at the end of 1999. In Regulation is formed Central testing Laboratory as a separate organizational unit which is verified in the Regulation on organization and Institute job classification No.11/2-3 in 2009.
Quality policy of the Central testing Laboratory is an integral part of business policy and the quality of the Institute based on meeting the Requirements of standards SRPS ISO / IEC 17025:2006 in the domain of services of chemical, physicochemical and mineralogy research in the field of environmental protection and preparation of mineral raw materials.
Laboratory is accredited by Accreditation Board of Serbia - ATS, No. 01-153 that meets requirements of SRPS SRPS ISO / IEC 17025:2006, date of granting 2008.07.15.
Primary interest in the Central testing Laboratory in the field of quality is based on establishing and maintaining market-oriented business system in order to meet the total demands, needs and expectations of our customers.
Organization of the Central testing Laboratory is shown in Scheme number 3.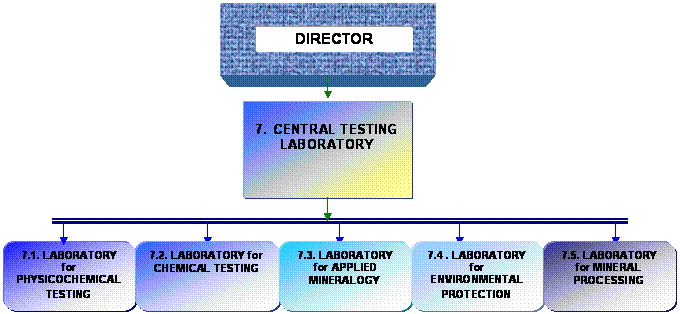 Scheme 3 - Organizational chart of the Central testing Laboratory